Staff Member-Diani Calderon
---
More info coming soon!
---
Missionaries-Oswaldo and Denise Pineiros
---
Oswaldo and Denise Pineiros are missionaries and the founders of With You International and Fundacion Contigo Ecuador. They have been caring for orphans and impoverished children since 2009. Denise and Oswaldo met when Denise visited Quito on a short term mission team that was leading a music conference at a local church. Oswaldo was one of her interpreters for that trip. Their connection was instaneaous. Denise felt the unmistakable pull of the Lord on her heart to the country and people of Ecuador. Denise has a bachelor's in World Religions and Advertising from Western Kentucky University. Her Master's degree is in Global Marketing Communication and Advertising from Emerson College in Boston. Her passion is to unite people to effect change in the world. She directs the women's Tagua program, as well as overseeing the day-to-day operations of With You International. Oswaldo was born and raised in Quito, Ecuador. His background is in business and economics. He has worked in various public sector positions. He has owned his own restaurant. He also founded a soup ministry to the homeless in 2000 with some friends, which has developed into the non-profit that cares for street children in Quito called COVI. Oswaldo directs the operations of Fundacion Contigo. Denise and Oswaldo are ordained through Messenger Fellowship International. They were married in 2008 in Quito. They have two children, Sara
Emma and Joshua.
---
Missionary-Evelyn Gaibor
---
Evelyn Gaibor is the director of the Pisuli project. She is an incredible woman who loves children and is passionate about seeing transformation in this desolate neighborhood. For many years, Evelyn has worked with the people of this neighborhood bringing the word of God, provisions, and building a community center where children and families alike can come to be fed, both physically and spiritually. In the summer of 2019, Evelyn will be traveling to the United States to study English and to improve her leadership skills. Upon returning to Ecuador, she will join the leadership of With You International in a larger leadership role. If you feel called to support Evelyn financially, please donate below!
---
Staff Member-Cristian Padilla
---
Cristian is our liaison to orphanages. He maintains weekly contact with all of the orphanages that With You International is committed to helping. He asseses the needs at each home, making it possible for our organization to continually provide for current needs as they arise. His introduction in his own words:
"Hello, my name is Cristian. I am currently 22 years old. I live with my parents. I have an older brother. I am studying in 5th semester in my university, where I have the opportunity to be in charge of an evangelization team.
I have known God since I was 12 years old, since then it has truly been a beautiful adventure to live for God and for God.
I thank God so much that He has set His eyes on me and that I can use my life to build His kingdom in this case through Foundation Contigo in the orphanages and with the young people and children in situation of vulnerability in Pisulì.
I consider that it is by his grace and his love that I have been able to put my hands in the plow."
---
Part-time Kitchen Staff-Karina Chango
---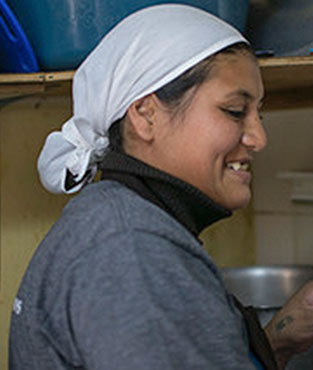 Karina Chango runs the kitchen for the Pisuli project, providing food for the children who participate in the weekly programs.
She has been participating in the tagua jewelry program since the beginning and exhibits natural leadership skills.
She has four children and it is a joy to see her interacting with everyone, sharing the same love she has grown to know she receives from Jesus.
In 2018, a team from New York State came to Ecuador to build Karina and her family a new home. They now have running water, an indoor kitchen and bathroom, and two bedrooms. They are beyond grateful for what the Lord is doing in their lives through With You International.
---
---
Only you can positively change the life of a person at risk forever
To improve the quality of life of people at risk in Ecuador
Click here to add your own content, or connect to data...
In scholarships and grants awarded yearly In scholarships
houses built for families in poverty
In scholarships and grants awarded yearly In scholarships
In scholarships and grants awarded yearly In scholarships
years of Christmas shoes for orphans